If Michael Jackson had been born in the State of Pará, he would look like Maickson Serrão. This is what the riverside dweller Rosicléia wished for when she combined the first letters of Michael with the final letters of Jackson and named the one-of-a-kind indigenous boy Maickson, who was born in the village of Vila de Boim, a district 90 kilometers — or 12 hours by boat — from Santarém. The village is part of the Tapajós-Arapiuns Extractive Reserve.
Rosicléia's son is the host of Radio SUMAÚMA, a fortnightly podcast that brings an indigenous analysis of themes and reports published in SUMAÚMA. This time round, however, Maickson is not chasing after the news to narrate it. He is the news.
Maickson was the only Brazilian selected by Global Shapers, which is one of the world's largest volunteer programs, found in 369 cities around the planet, to speak at the World Economic Forum in Davos, Switzerland. The event gets underway on January 16 and will go on until January 20. Apart from Maickson, Brazil's Finance Minister, Fernando Haddad, and its Environment and Climate Change Minister, Marina Silva, are also in Davos.
Like Marina, Maickson is taking part in panels about indigenous peoples and climate change. But when he was packing his bags and getting ready for the trip, a challenge came up: "How do I differentiate myself from these people? Despite my features, which show me that I am from Brazil's northern region, if I was wearing formal attire I would just be another suit. So, how can I cause a stir when I arrive? How can I make an impact and say like: "Yo, I've arrived, I'm here, it's me!"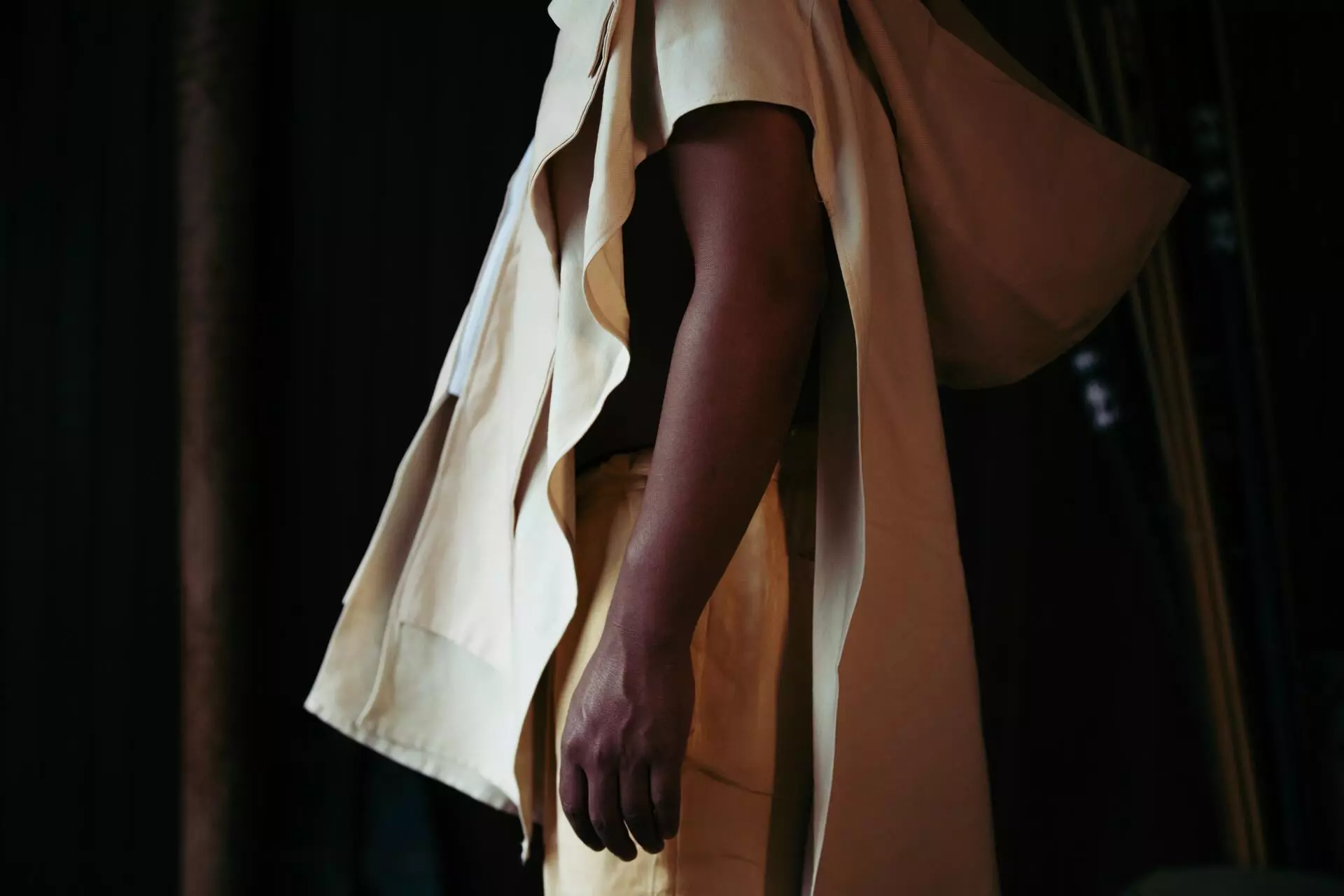 ManioQueen Collection, by Sioduhi: bicolor canoe poncho. Credit: Christian Braga/SUMAÚMA
It was at that point that he decided to ask for help from Sioduhi, an indigenous designer who is driving indigenous and non-indigenous people in the State of Amazonas wild. In Manaus and São Gabriel da Cachoeira, which is the Pira-tapuya (indigenous tribe) artist's hometown, we came across a lot of indigenous people wearing his latest collections. T-shirts with the word Originárie written on them, and others with a drawing of the map of São Gabriel, which resembles a dog's head, are worn by people all over the state.
Sioduhi answered the podcaster's request and promptly put together four looks from his new ManioQueen collection [manio comes from mandioca which translates into cassava in English]. Galeria Amazônica, which combines a store and a gallery to sell and show indigenous art from 23 tribes in the Rio Negro region without any middlemen, provided 12 pieces to be put together to create exclusive ethnic looks for Maickson Serrão to go to Davos.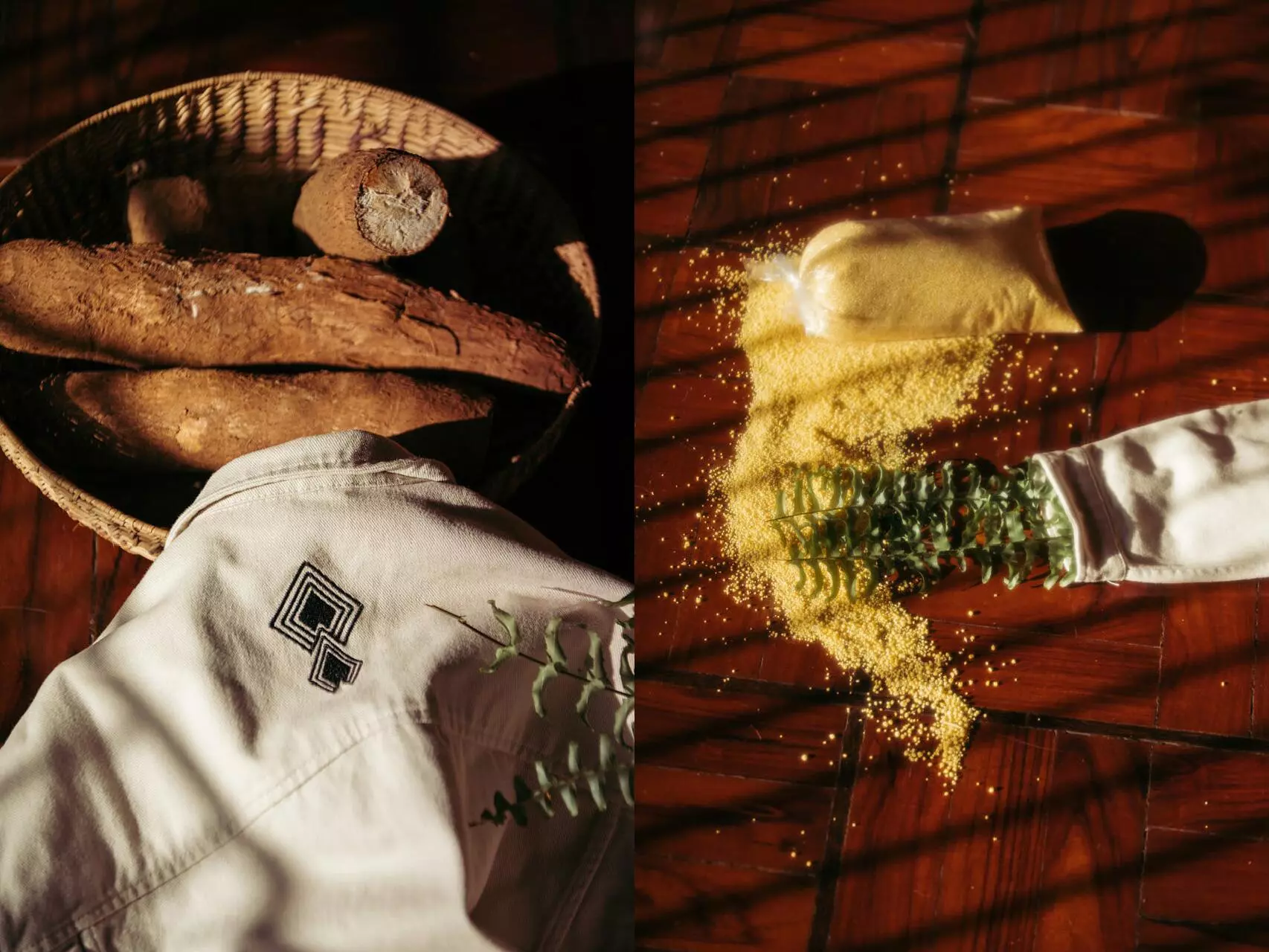 ManioQueen collection by Sioduhi: detail of 'Caminho da roça' jacket. Credit: Christian Braga/SUMAÚMA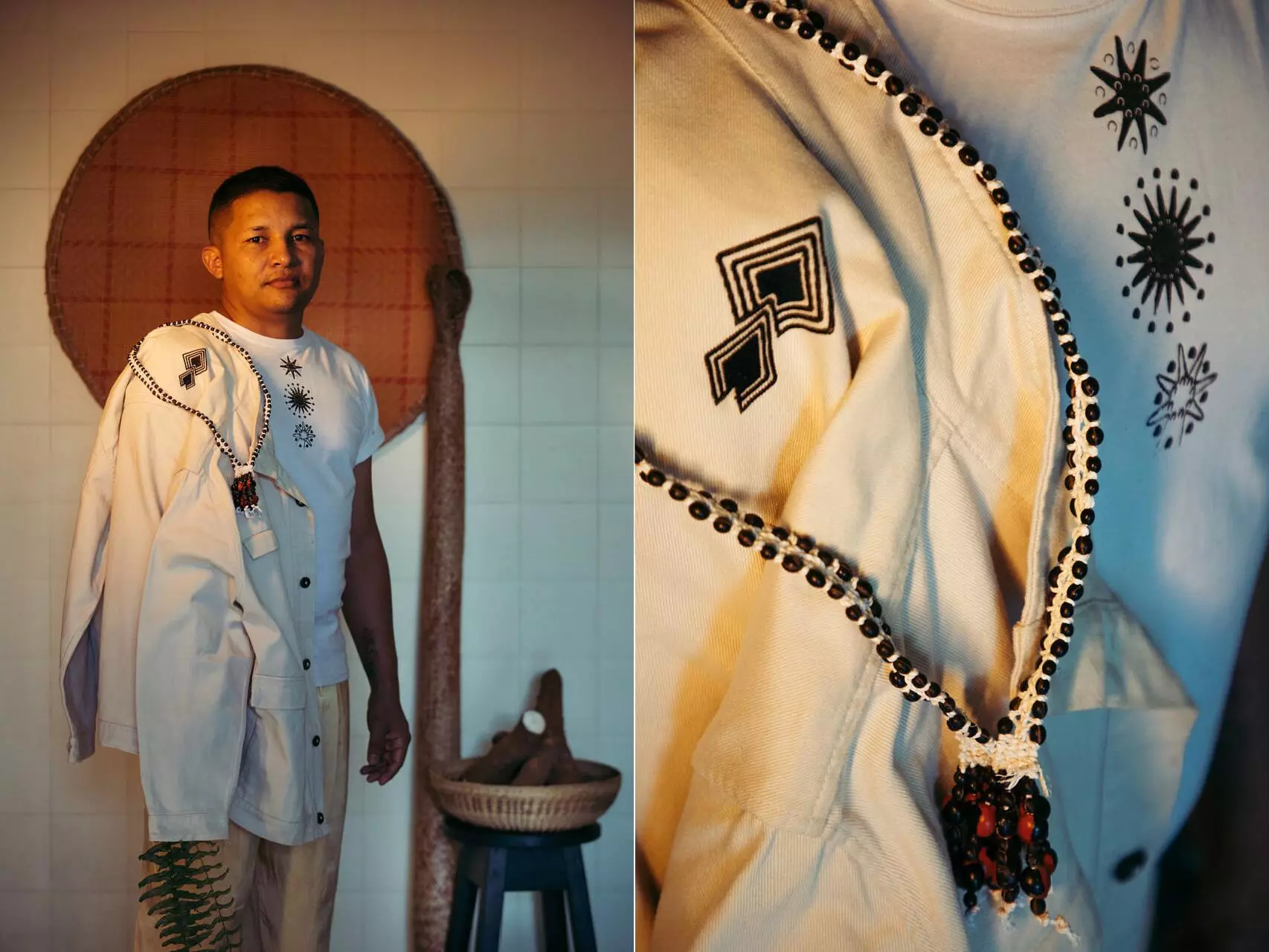 ManioQueen collection by Sioduhi: 'Caminho da Roça' jacket with 'Filhotes de Beiju' shirt. Credit: Christian Braga/SUMAÚMA
"I will be wearing clothes from a designer as famous as Sioduhi, who is trying to establish himself in the market, who is self-taught and values his indigenous origins, nature's resources. He uses [sustainable] fabrics, produces dyes that are not harmful to the environment, and values raw materials from the forest. Maybe I won't be able to make an impact with my posture, with my words, maybe I won't have much room to speak inside the forum, but wherever I am I will manage to make my presence known with my clothing. So, I am expressing myself in a number of ways and my clothes are just one of them", says Maickson.
But there is no way that ministers, heads of state, wealthy people and other participants at the Forum or on the streets of Davos should be the only ones who are able to see Sioduhi's creations. This is why SUMAÚMA decided to do a photo shoot in the center of Manaus and at the Amazon Museum (Musa), which is regarded as the largest piece of preserved forest within an urban area in Brazil. Everything was already very luxurious, but the production was also able to count on the support of Manaus born artist and stylist Ramon Alada, who helped prepare Maickson for the photos taken by Christian Braga.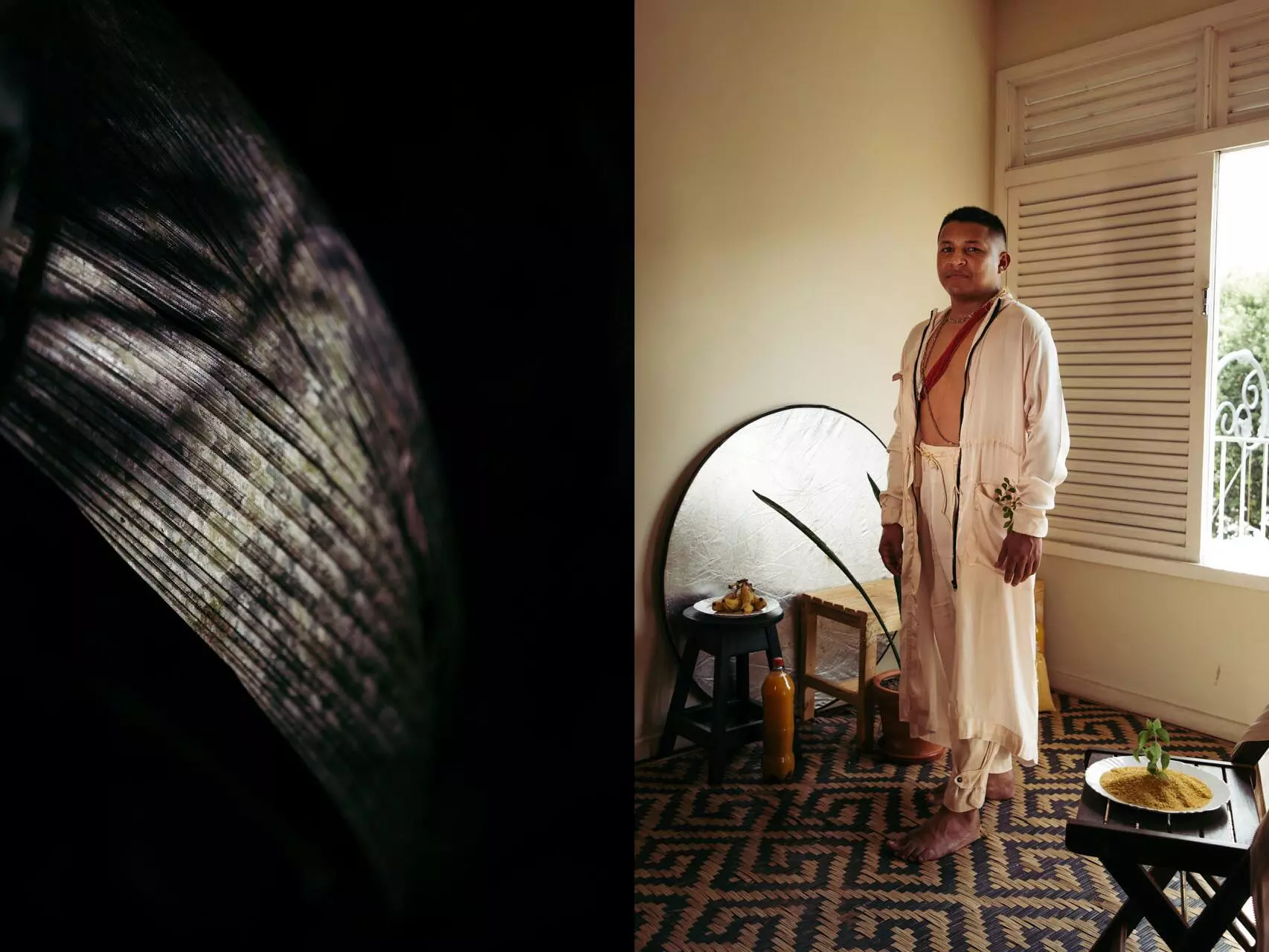 ManioQueen collection, by Sioduhi: 'Manejo da Roça' top and 'Indo pra Roça' pants. Credit: Christian Braga/SUMAÚMA
That day, after the photo session, Maickson, who is usually the one asking the interviewees the questions, told a little of his story to SUMAÚMA. Who is Maickson Serrão, I asked. He stretched out his right arm, clenched his fist and slid his hand across a tattoo. The church, the river and the beach could be found in any small village in the Amazon region, but it is not just any place, it is Maickson's land, the land of the Tupinambá.
"Boim is the land of the Tupinambá, so today I view myself as an indigenous person. In this process of colonization, we end up not acknowledging this identity, and after you study, you acquire more knowledge, more critical consciousness and you end up perceiving this recognition. You go and dive into your origins, into your roots. This is a process that I went through as an adult, and I feel more complete because of it, this process of seeing myself, of recognizing myself as being indigenous, of valuing this entire culture.
Maickson took part in the highly competitive Sound Up, a Spotify program that offers a well-structured training course with top-level professionals so that ideas from black and indigenous people can reach the market. There were some major success stories in the United States in the podosphere that came out of this program. Here in Brazil, Maickson was the platform's top revelation of the year. His storytelling podcast Pavulagem was among the top 10 releases of 2022. It was the platform's first original podcast produced in the Amazon region, with a 100% Amazonian script, presentation, and conception. In December, Maickson renewed his contract with the platform.
Pavulagem – The Character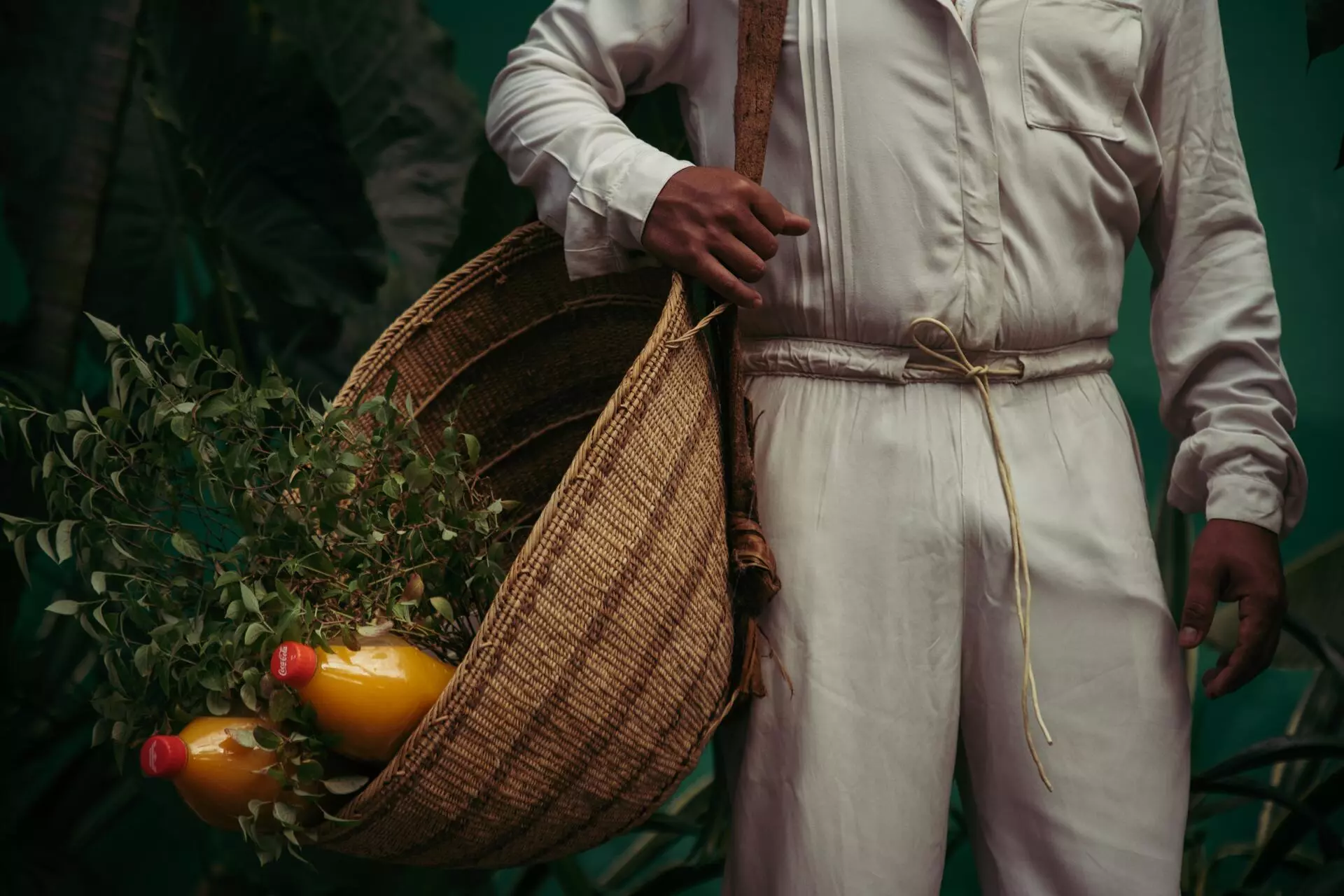 ManioQueen collection, by Sioduhi: 'Criador do Alimento' jumpsuit. Credit: Christian Braga/SUMAÚMA
At the age of 12, Maickson Serrão filled his bicycle basket with bread rolls and went out to sell them door-to-door in Vila de Boim. He could not resist the offer of a cup of coffee and very shortly he knew everyone's name and all the community's gossip. If a boat docked with people arriving, he would run down to the port and start asking questions. A kid reporter.
While he was still a teenager, he got his first job as a reporter. The newspaper was called A Notícia (The News). It was produced by young people from the community and provided information about the charity bingo, education campaigns, and actions aimed at preventing child pregnancies. It also talked about poetry and showed the results of the soccer championship. All handwritten and illustrated with clippings and drawings. In a short time, Maickson, thrilled with the work, went from reporter to editor-in-chief of A Notícia. He was 14 years old.
Before being distributed to the community, the 10-page edition would travel by boat to Santarém, where Paulo Lima, from the Health and Happiness Project, would make hundreds of copies on a photocopy machine and send them back by boat to Vila de Boim.
It didn't take long before the editor-in-chief decided to create an audio version. The radio-post A Notícia was broadcast on an improvised megaphone tied to the top of a lamp-post. From the square, Maickson read aloud the news that he was writing. His amplified voice awakened a passion for audio and storytelling.
Back then, nobody had electricity at home, apart from Chico Preto, a former employee of Amazonex, an old lumber mill that operated until the Tapajós-Arapiuns Extractive Reserve was created. Chico Preto inherited the generator from the former company and provided wooden stools for the neighbors to watch Jornal Nacional (the main Brazilian news program) and the eight o'clock soap opera – but not every day. When it was not possible to watch TV at sunset, Maickson would run to the house of his Aunt Maurícia, who would fill the young boy's head with stories that made him laugh and made him scared of the forest.
Aunt Maurícia died during the covid-19 pandemic. With her went the stories of the Tapajós forest that she used to tell the boys and girls. "It was only after her death that I felt the need to put together this catalog of stories," says Maickson. "I had very strong memories of the stories. There were three sisters: Maurícia, Zoraide and Joana. Joana and Maurícia have already passed away, only my grandmother Zoraide who is 96 is still alive".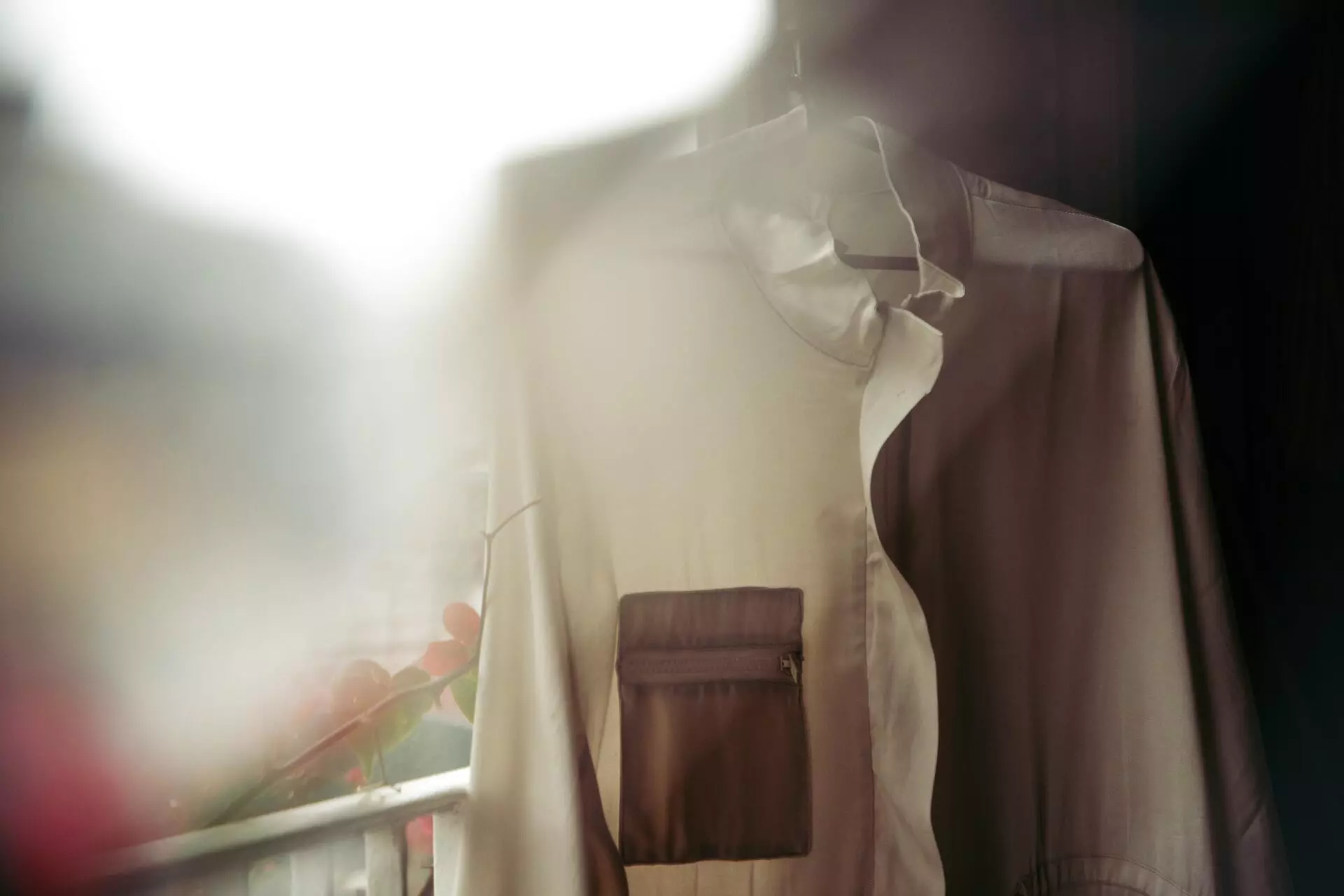 ManioQueen collection by Sioduhi: 'Queima da roça' windcheater. Credit: Christian Braga/SUMAÚMA
That was when Maickson decided to listen to the storytellers' tales, catalog them, and create a podcast of riverside stories. The course on Spotify was the perfect chance to refine the idea, which was weighed up by experienced professionals, such as Tiago Rogero, the author of the award-winning podcasts Vidas Negras (Black Lives) and Projeto Querino. After almost two years of work, his podcast Pavulagem was launched.
"The first episode went out on June 30, 2022. It was like watching the dream take shape. My dream taking shape. And understanding that all of this is the result of a community's efforts, because if the storytellers had not brought me these stories, hadn't made me feel so welcome and hadn't increased my desire to want to tell more stories, then none of this would have happened," he says.
In Pavulagem, over the course of 12 episodes, Maickson presented stories of many enchanted beings from the forests, such as Jurupari, the demon of the forest; the boto (pink dolphin), the prince of the waters; Patauí, the wanderer of the night; Curupira; Taú, and many others, in the voices of the riverside dwellers. This work is the result of months of interviews and research by the podcaster.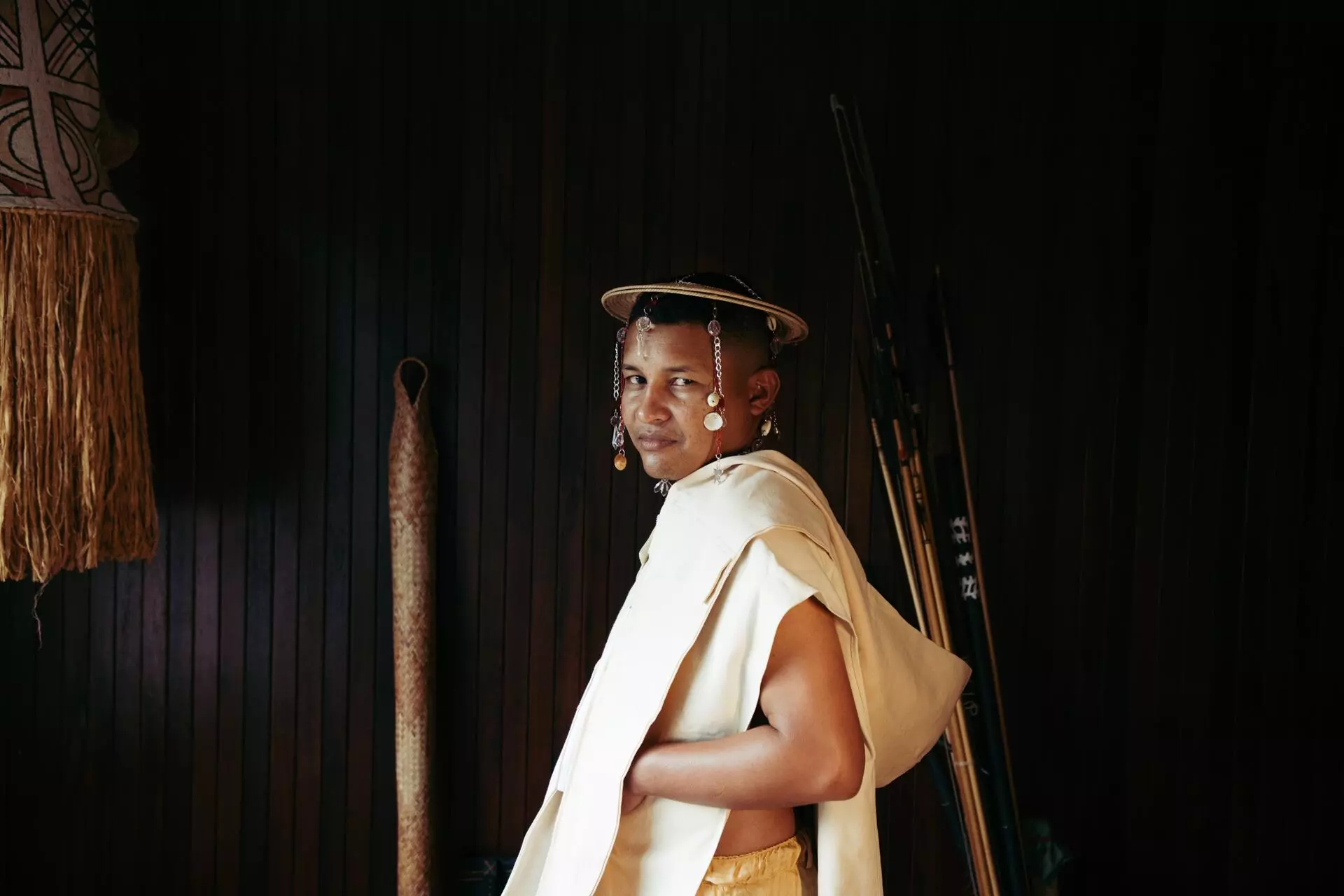 ManioQueen collection by Sioduhi: two-colour canoe poncho and accessories in cubist design. Credit: Christian Braga/SUMAÚMA
Pavulagem is not only the name of the podcast, it is also a character created and incorporated by Maickson in order to be free to tell myths and stories in a totally original way and to talk about the multitude of mysterious beings that inhabit the world's largest forest. In each episode, the listener moves slightly deeper into the forest and gets to know more both of what is visible as well as of what is invisible – in the Amazon, guided by the voices of local storytellers. The narrator, like the stories, may or may not exist. It all depends on the listener's imagination. Simple and brilliant, just like the author.
Looking at Maickson is like looking through a kaleidoscope. One image will always be different from the next. A communicator from the forest and a seller of dreams, before taking off in the podcast world, Maickson developed an online sales app for boat trips, was one of the ten finalists in a national business contest, took part in the first season of the Sony Channel program Shark Tank Brasil, and, on top of this, trained teachers how to use Word and Excel as part of a digital technology project with the public schools of the city of Manaus, where he has been living since he was approved in a civil service examination to become a P.E. teacher. Last year, he achieved one of his major dreams, he got his degree in journalism. This was the passion that brought him to SUMAÚMA.
"SUMAÚMA is not bound to anyone, it is free to speak its mind. It's published in three languages. So, you've got Portuguese, Spanish, and English. SUMAÚMA makes use of the experience of journalists like Eliane Brum and Jon Watts, to take these voices out into the world. We need journalism like SUMAÚMA, which speaks from the center of the world and that seeks to value people from the region. So, SUMAÚMA is the spokesperson of the indigenous peoples, of the forest peoples. So, I'm proud of our SUMAÚMA Radio program."
Pavulagem is a new word meaning beautiful and pompous that comes from the Portuguese word 'pavão' which means peacock. In the everyday language of the State of Pará, it denotes "a person who likes to strutt". Maickson traveled to Davos strutting his stuff to the utmost, with clothes designed by the Brazilian indigenous fashion sensation Sioduhi, together with necklaces and bracelets from a number of different ethnic groups and an updated profile picture taken as part of SUMAÚMA's first fashion editorial.
On January 30 the interview that Maickson did with the creator of the clothes he took with him, and that's he's now wearing in Switzerland, will be broadcast. Radio SUMAÚMA will tell the story of someone who is making history. So, switch on your favorite player and follow us there so that you don't miss this or and any other episode with the voice of this riverside dweller, who is showing off and is willing to talk to you in a way that only a child of the forest could do.
---
Translated by Mark Murray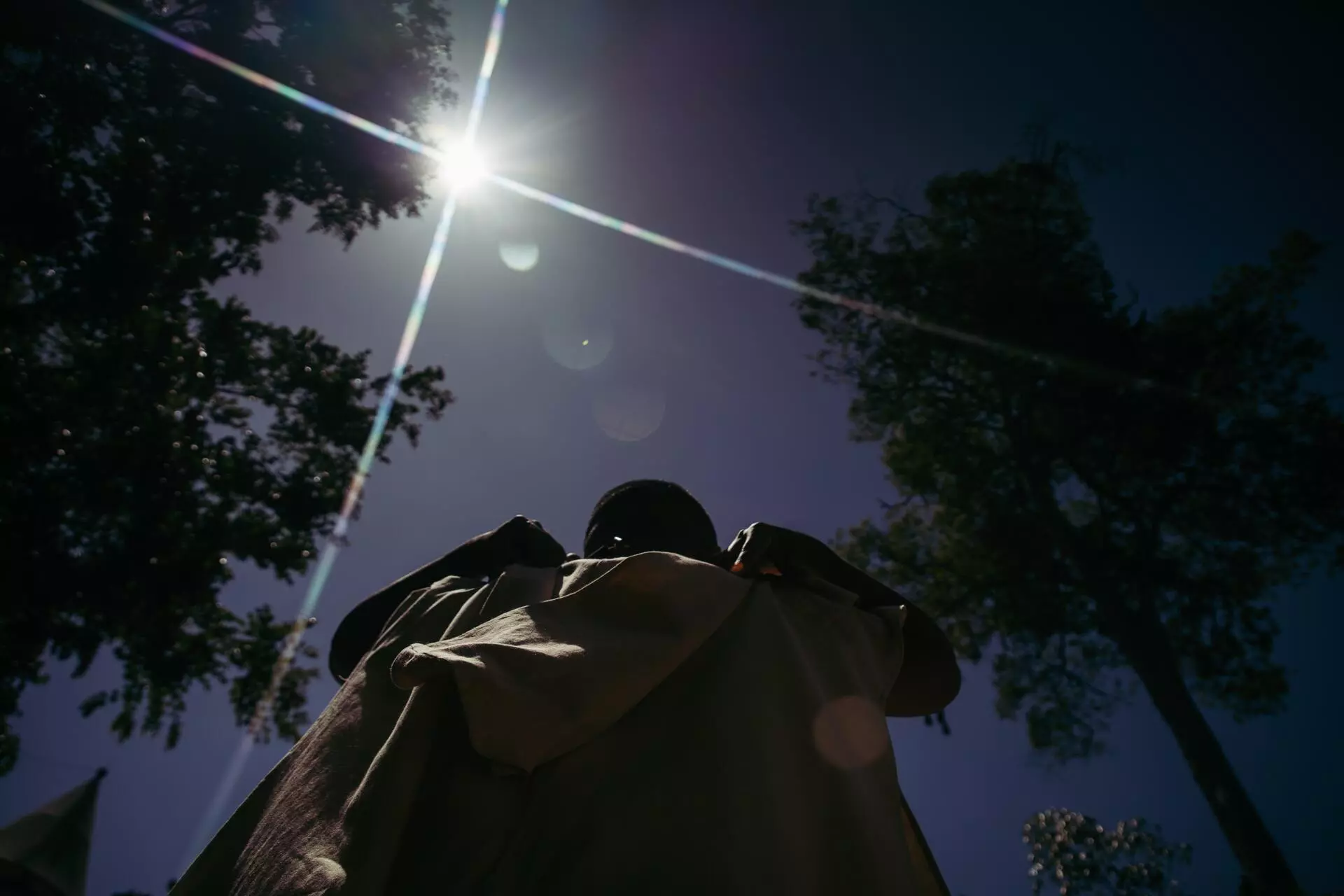 Sumaúma trees with Maickson Serrão wearing a two-colour canoe poncho. Credit: Christian Braga/Sumaúma