Indigenous lands prevent respiratory diseases
Every year the forests on indigenous lands in the Brazilian Amazon absorb 26 thousand tons of pollutant particles released by burning, which helps to avoid 15 million cases of cardiovascular diseases, generating healthcare savings of 2 billion dollars, according to Amazônia Real.
---
'Gold library' helps identify the origin of ores
A program launched in 2019 that catalogs gold samples has helped the Federal Police identify the origin of seized ores, according to a report by Mongabay.
New Yorkers linked to smuggling
Two New Yorkers were caught at Manaus airport as they tried to smuggle 35 kilos of illegal gold from the Amazon, estimated at a value of 10 million reais, to the United States. Repórter Brasil noted the incident shows how lax controls under Bolsonaro's government attracted foreigners to the activity .
Supreme Court tackles 'laundering' of illegal gold
Minister Gilmar Mendes of the Federal Supreme Court has suspended the "presumption of good faith" in the gold market, which made it easier to "launder" illegal gold. As a result of this decision, it will be possible to hold buyers civilly and criminally responsible, according to the news site Nexo Jornal.
---
Brazilian candidate for the presidency of the Climate Panel
The Brazilian government has put the researcher Thelma Krug forward as a candidate for the position of president of the United Nation's Intergovernmental Panel on Climate Change, according to the website Headline. If elected, she will be the first woman and the first Latin American representative to head the top science panel.
---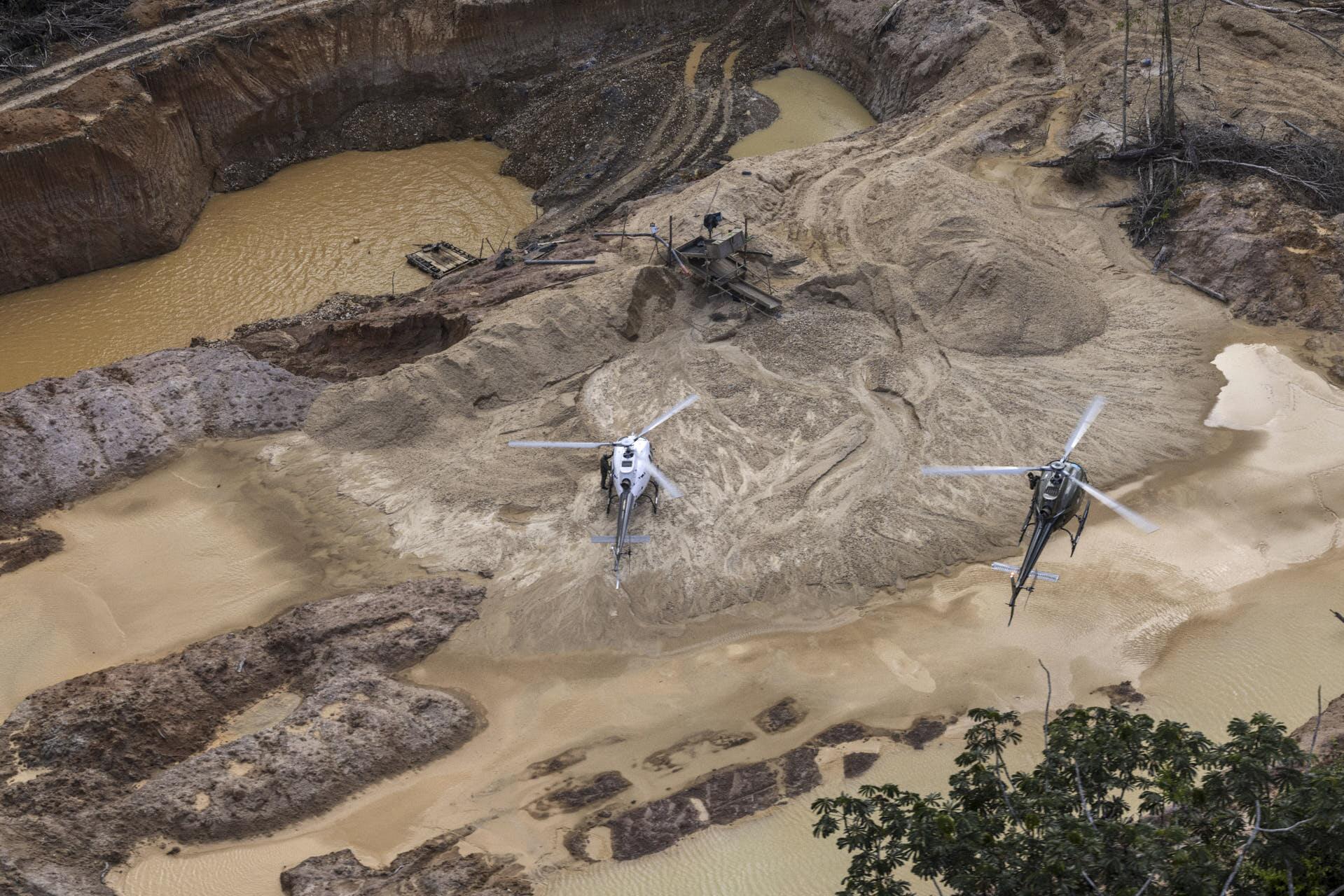 IBAMA HELICOPTERS TAKE PART IN AN OPERATION TO COMBAT ILLEGAL MINING IN YANOMAMI INDIGENOUS LAND IN FEBRUARY 2023. PHOTO: LALO DE ALMEIDA/FOLHAPRESS
Deforestation surges
Destruction of the Amazon region in the first three months of this year was the second highest every registered, with a loss of 844 square kilometer, only lagging behind the 941 square kilometer figure recorded in 2022, according to according to data from the National Institute for Space Research covered by Amazônia Real.
Farmers claim areas in indigenous lands
During the first three months of this year 30 farms were certified inside indigenous lands, according to a survey by Agência Pública. In total the properties cover roughly 9 thousand hectares, Certification is a step towards the property's registration in the notary public's offices and makes it possible to obtain rural financing, licensing applications, and division of the area into lots.
Warnings drop, but invasion continues in Yanomami territory
The number of warnings of illegal gold mines in Yanomami indigenous land dropped by 60% in the wake of evictions by the Brazilian Institute of the Environment and Renewable Natural Resources (Ibama), according to a survey published by Agência Pública. Nevertheless, 94 new or expanded illegal gold mining operations have been registered since February 20.
---
Truth Commission must include indigenous peoples
The Ministry of Indigenous Peoples plans to set up a commission to address violations suffered by indigenous peoples during Brazil's military dictatorship (1964-1985), according to an interview given to InfoAmazônia.
Senate sets up inquiry into NGO activity in the Amazon
The Senate will set up a Congressional Investigative Commission (CPI) to look into NGOs that received funds for indigenous health in the Amazon. The proposed, published by Poder360, was made by senator Plínio Valério (Brazilian Social Democracy Party for the State of Amazonas), and supported by many Bolsonaristas.
China's asked to transform degraded pasture areas into farmland
The Minister of Agriculture, Carlos Favaro, said he will seek help from Chinese businessmen for a program to transform 30 million hectares of degraded pasture into farmland, according to the newspaper Valor Econômico. This plan, which would double Brazil's crop area, envisages investments of 500 billion reais.
---
Spell check (Portuguese): Elvira Gago
Translation into Spanish: Meritxell Almarza
English translation: Mark Murray
Photography editing: Marcelo Aguilar, Mariana Greif and Pablo Albarenga