I am Pavulagem, a 30-year-old indigenous riverside dweller born in the village of Vila de Boim, a community about 10 or 12 hours by boat from the city of Santarém, in the State of Pará's Amazon region. In Amazonian jargon, Pavulagem means a person who likes to show off. That is the perfect definition of me. And if you have been following SUMAÚMA you may have heard me in our podcast or read about me in this report.
Today I am going to talk about a trip I took in January to Davos in Switzerland. I will present my perception of the glamour and grandeur of the World Economic Forum, which is a place for interactions, debates, variety, and cultural diversity. This article is not about being right or wrong, but about what I saw, felt and thought.
 
With the goal of discussing "Cooperation in a fragmented world", which was this year's theme, the Forum brought together an audience of about 2,500 people. These included heads of state and government, politicians, executives, businessmen, artists, scientists, representatives of civil society and of news outlets, along with youth leaders from various parts of the world. I was part of the latter group, because I am part of the Global Shapers community, which selected 50 young leaders. With a presence in more than 450 cities and 150 countries, the Global Shapers Community is a network made up of 14,000 volunteers. In Davos, I represented the city of Manaus, where I am vice-curator of social projects focused on the Amazon region.
I found out that I had been chosen to represent the Manaus hub, on November 2 of last year. In order to apply, apart from a written form, I also had to send in a 90-second video in English – I don't know English, recently I have begun studying online with a teacher, but at the time I didn't speak a word of English. I put together a text in Google Translator and sent it to a friend who is fluent in the language to see if it made sense. He recorded an audio tape, which I used as a basis to train on. It was a presentation about my trajectory and a defense of my candidacy. I talked about Pavulagem, about the importance of reclaiming the Amazon region's and indigenous people's voices, and even inserted subtitles in English so that they could better understand my pronunciation. No one from the Amazon region had ever been selected before. When I woke up that day, on November 2, the first thing I did was look at my cell phone. I was over the moon, I had been chosen, but I had no idea what to do.
I was well aware of the event's importance on the political, economic and climate front. I knew I needed to be there. But the legacy of colonization – and because we are a politically underrepresented minority in our country – made me think: do I deserve this? Am I going to be taking somebody else's place? I sought the strength of my Tupinambá ancestors and didn't let either impostor syndrome or my difficulty with English stop me from confirming that I would be taking part. I have always carried the message that we need to occupy the spaces, especially decision-making ones. Once again, I needed to practice what I preached.
But although we are making progress in terms of our agenda and in relation to the presence of indigenous people in positions of power, often our participation is not viewed this way. And even at an event like Davos – which has real potential with regard to diversity and openness – people end up repeating kinds of behavior that should have been left behind by now. One example of is acting as if they don't know that there are indigenous people who live in an urban context, who study, use technology, and do research. Showing astonishment when they come face to face with an indigenous person who does not fit the stereotyped image that they have of the forest, of life in a village. It is as if they see us and think: "wow, look, a socialist with an iPhone". There was one person who spoke to me about Bluetooth phones as if he was showing me a mirror 500 years ago. It would be interesting if people were more inclined to learn and to ask questions. To talk, before they say something rash and make a mistake.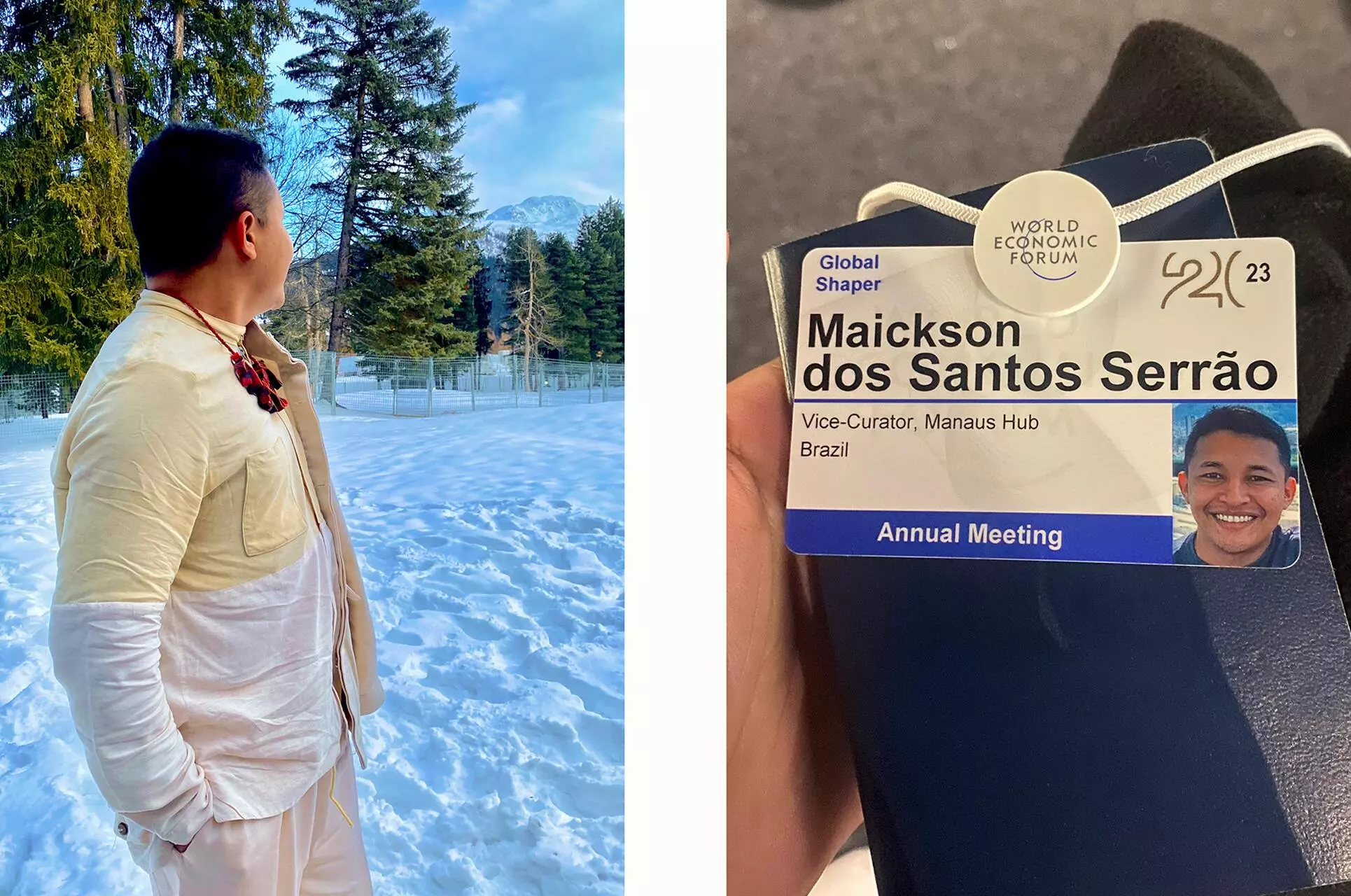 Maickson watches the snow (left) and holds up his credential. Photos: personal archives
This year's Forum released a document called "Incorporating Indigenous Knowledge in Landscape Conservation and Restoration", which gives information that is common knowledge among indigenous peoples: native peoples' and local communities' lands cover one-third of the planet, and 91% are in good ecological condition. It is proof of the effectiveness of indigenous peoples' long-term management of complex natural environments. In my opinion, presenting this document in 2023 is way overdue.
Here in the Amazon region, illegal mining, deforestation, land grabbing, and other attacks are advancing while we, the indigenous peoples and forest dwellers, are the ones responsible for conserving biodiversity along with riverside dwellers, quilombolas (descendants of enslaved rebels), and other traditional populations. We are the ones who preserve and care the most. I come from a conservation unit [the Tapajós-Arapiuns Extractive Reserve], we know how to take from nature just what we need to consume. If non-indigenous people had learned from us, maybe the world would be better off.
This was my aim at Davos: I had to know how to move around and make use of the spaces, my place to speak, to convey the message that, in order to defend the Amazon region, you have to defend those who live in it. And we can pass this message on in a number of ways. Fashion is one of them. With the support of my friends I entered into a partnership with the indigenous stylist Sioduhi to wear his new ManioQueen collection and show my identity through the beautiful fabrics dyed using manioc peel.
Speaking of manioc, I have to admit that the thing I missed the most during the six days I was at Davos was our little yellow flour, which is present at every meal and that during the 30 years I have been alive has always been with me. Lunch at the event was always rushed, with loads of people crowding around, served in small bowls that ran out soon because the portions were small, eaten in a hurry and without much small talk, between one appointment and another. I'm not used to this and, although I'm familiar with fast food and like hamburgers, I prefer real food, that's substantial, like good fish, rice and fruit and flour. I really like stopping to eat and have a chat and have a break.
The most peaceful and longest meal at the Forum was dinner, but the rest of the time what we had were quick snacks, bread, sweets, hot dogs and artificial juices. Times like this make you realize how rich you are. Ah, some freshly squeezed cupuaçu, acerola, mango or hog plum juice. Our kitchen is the envy of all. I can't say that there was no fruit there, as there were plenty of apples. And some pears. What I can say is that I didn't eat very well, because eating out was expensive and the rest of the time it was rushed.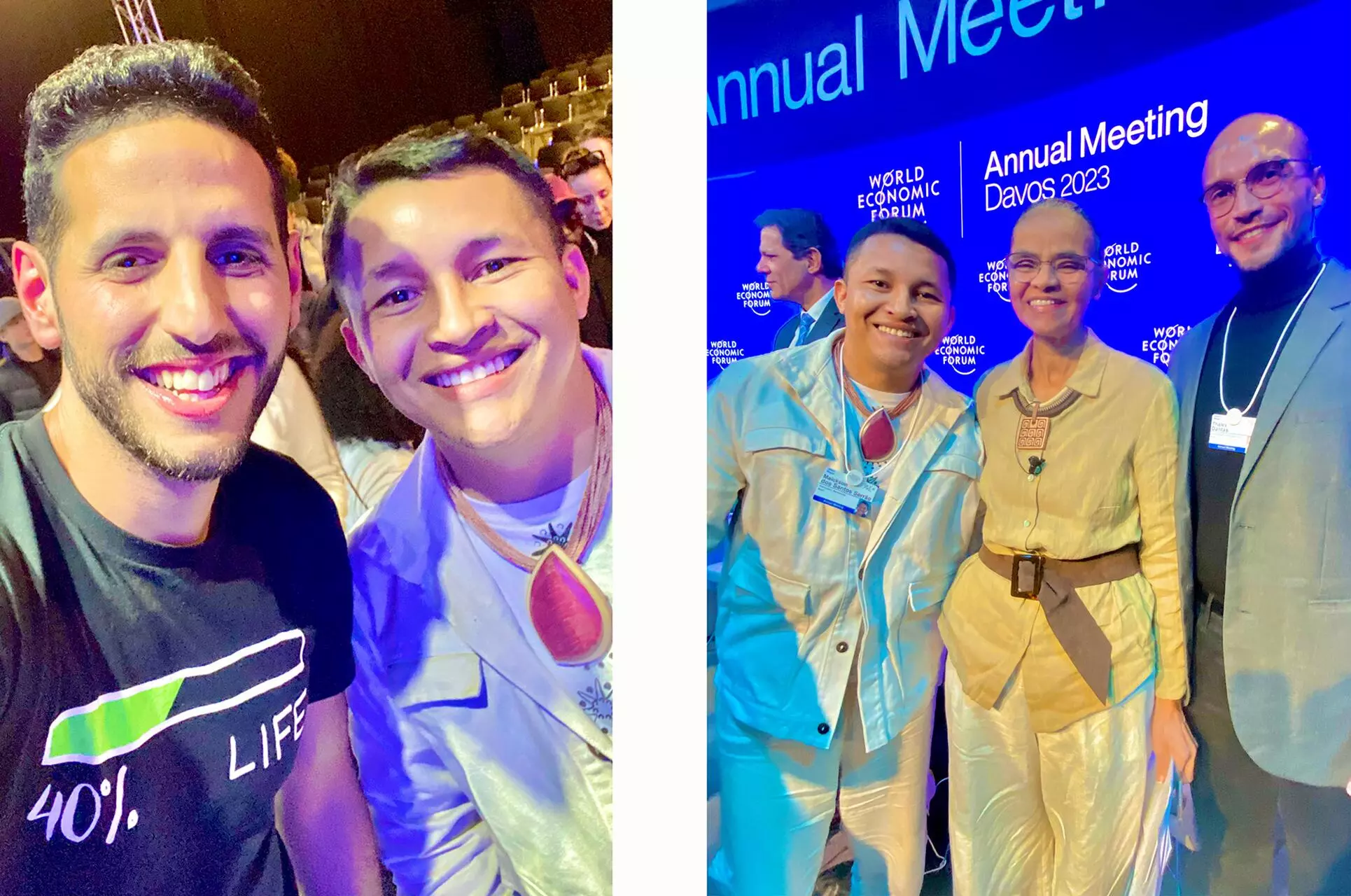 Maickson Serrão and digital influencer Nas Daily (left), Marina Silva and Thales Dantas. Photos: personal archive
The internal area at the World Economic Forum was closed-off, under heavy security, and could only be entered with a badge. Outside, large companies, governments and public sector organizations rented spaces and were offering their own schedules. I moved around in both environments. But since I am used to the 35 degrees Celsius in the Amazon, the average temperature of minus 12 degrees Celsius on the streets of Davos was a major factor in causing me to prefer the official events – but not without first realizing my childhood dream of seeing snow, which is beautiful. I almost fell down, because it is slippery and I found it very tiring. I felt the cold on my skin and for a few days I suffered with an allergy – it was a pity I hadn't taken any andiroba with me, which, I learned from my mother, is good for everything.
I got close to personalities that I have only seen on social media or on TV. I was just a few meters away from Ursula von der Leyen, President of the European Commission, I bumped into António Guterres, the Secretary-General of the United Nations, and I was able to chat with Marina Silva, the Minister of the Environment and Climate Change. During our discussion, I conveyed the message that the Brazilian Global Shapers community's youth groups are available and want to talk to the ministry, so that we can make progress in relation to the environmental agendas, particularly in the so-called Legal Amazon. She was very friendly, gave me her team's contact details and even complimented me on my clothes. The Marina Silva I met was a person who was friendly and willing to engage in dialogue.
I was quickly introduced to Helder Barbalho, governor of Pará, my home state. During a conversation I heard Eduardo Bartolomeo, president of the mining company Vale, talk about the Carajás National Forest. And I can tell you that Luciano Huck, who is a TV host with the Globo Network, asked for a picture with me. I felt I was being treated like an "equal" and I think that some people thought: "This kid is here, so he must be important. Let's hear him out. I felt like a real show-off. Being in these places teaches you that it is possible – and often necessary – to sit down with people who think differently to you. I kept on thinking about this: how to deal with situations where I come across people who back or support something that I am totally against? I believe that sometimes, being a leader means that you have to take part in the dialogue and have respect for the other person's position.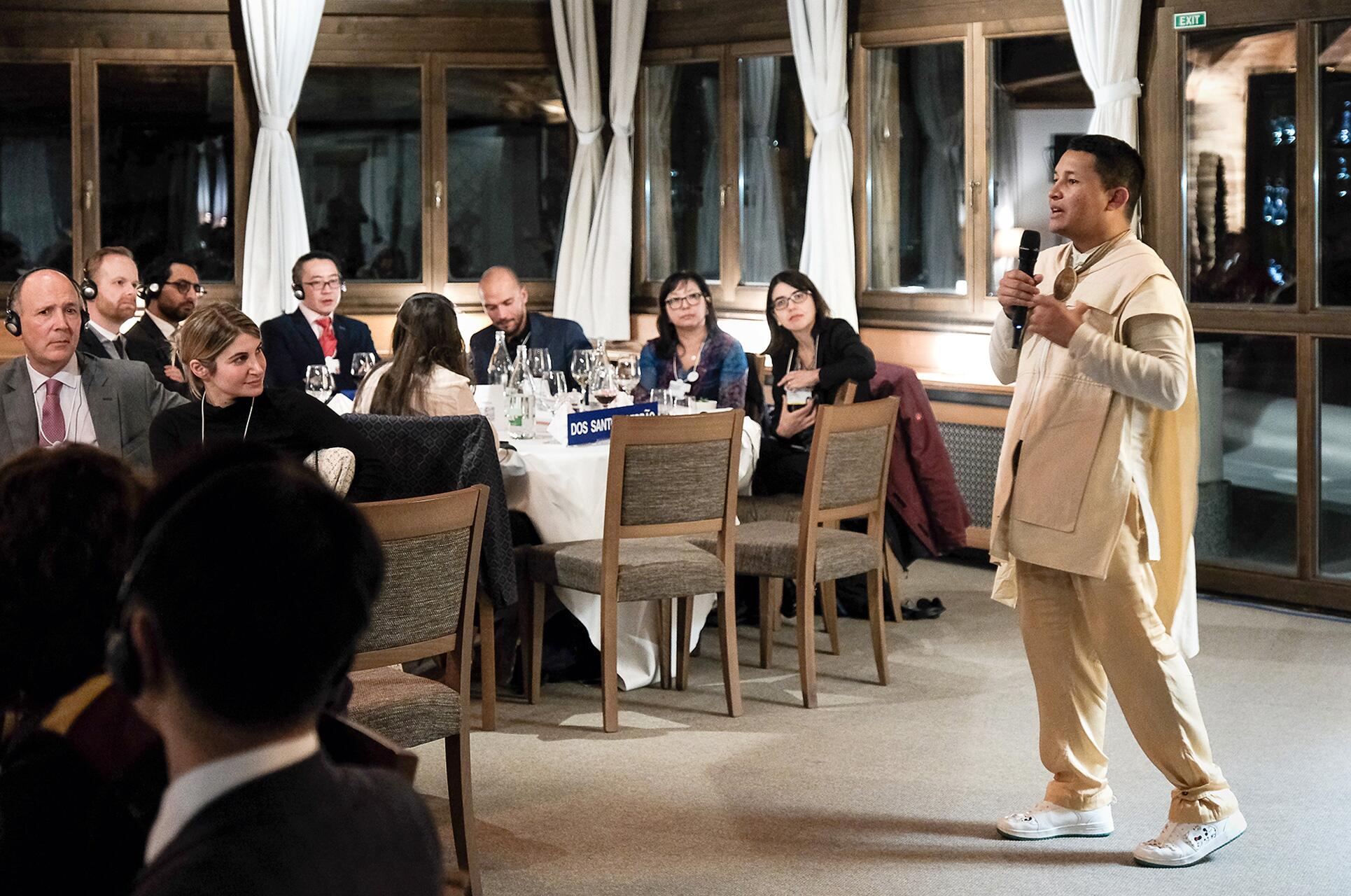 Maickson Serrão speaks to the audience at the dinner in Davos. Photo: Walter Duerst/World Economic Forum
As an indigenous and Amazonian leader, I was invited to take part in two panels. In the part open to the public, the topic was "Planetary Prosperity". I explained the reality of my life in the Amazon region, about the work I do to reclaim and preserve the oral culture of the region's riverside dwellers and indigenous people, and also about the importance of taking the local population's opinion into account. What is needed is incentives, public policies, and improvements so that those who live in the forest have good living conditions and, as a result, continue to protect the biodiversity.
As part of the official agenda, I was at a dinner with indigenous people from Ecuador, the United States and Canada, and religious leaders. The subject was: "Guardians of the Planet". When they sent me the program, this group of participants seemed strange, because normally we have differences in our beliefs and ways of life, and there's a history of them wanting to convert us. But it worked. Illona Szabó, from the Igarapé do Brasil Institute, was in charge of the event. I didn't prepare anything in advance, because that night I wanted to speak from the heart. I explained about the time when I did not see myself as an indigenous person, not because I was not one, but because I was not aware that I was. Many people in the Amazon, prompted by the entire process of ignoring our roots and identities, are driven to not recognize themselves as indigenous. To identify themselves as being "dark skinned" or "mulattos", and in this way avoid any sort of negative stereotype associated with being indigenous.
I spoke of the pride and honor that I now feel in recognizing myself as being an indigenous person, and of my aim to use communication to talk about my people, about our knowledge and wisdom. I ended my speech by asking for support for those who live in the Amazon, for the indigenous cause, for the forest, and so that we leave a better world for future generations.
* * *
What Davos represented to me was a chance to hook up with the Brazilian community, to take part in sessions about climate and nature and in debates about Brazil, Latin America, and indigenous peoples. It was important for me to make my presence felt – and I did. Although there were interpreters in the panels that I attended, I have to be honest and say that I felt like talking more, because I have more stories to tell. But in the aisles, at other events, and in parallel conversations I did the best I could and had technology helping me: I used the simultaneous translation app on my cell phone. I came back to Brazil with the aim of improving my English so that my voice can reach more people. I have a lot to talk about and I want to be able to show our culture, our knowledge, anxieties, and anguish to the world.
I believe that the Davos event is important, but I feel that better use could be made of it. One of the points would be to reduce the number of sessions and have more in-depth dialogues that better reflect the reality we live in. I regard the participation of indigenous people as being essential, but we need to really listen and for there to be strong urgent measures in relation to climate and nature. I want to go back next year. The indigenous strength will echo the voices of our ancestors at the 2024 meeting. Get ready, Davos.
Maickson Serrão, an indigenous riverside dweller from the State of Pará, is a journalist, podcaster, and the host of Rádio SUMAÚMA, a biweekly podcast of indigenous analysis of issues covered by SUMAÚMA, and of Pavulagem, a program that tells traditional and fantastic stories of the Amazon forest.
Translated by Mark Murray