SUMAÚMA – Journalism from the Center of the World is celebrating its first birthday.
We who have sown and watered SUMAÚMA—and have been sown and watered by this journalism platform named after the Amazon's majestic kapok tree—are endlessly reminding ourselves that we are now one year old, yet it still seems unreal. It wasn't a year; it was a vortex. And when I say "we," I also mean each and every one of you, because this tiny tree wouldn't exist without your support. And it won't grow without your support. That is not a rhetorical statement; it is one of the truths that sustain us in our daily lives. SUMAÚMA only exists because our readers believe SUMAÚMA must exist. And right now, broadening this support is what will determine the continuity of our struggle in the field of journalism. Either SUMAÚMA has a community of readers that sustains it, or we will become a memory, a blip in the middle of a war.
We launched our trilingual platform from the Amazon almost two months before the runoffs in Brazil's most important election cycle ever. That is no exaggeration. If far-right president Jair Bolsonaro had been reelected, he would have finished his thorough erosion of rights won over decades, completed his destruction of the institutions he had relentlessly attacked, and advanced with even greater ferocity into the forest and other biomes, putting more private property into non-Indigenous hands and opening protected areas to uncontrolled mining. Bolsonaro would not only have encouraged crime, as he did during his four years in office; he would have legalized it. Indigenous genocide would have effectively become public policy. And all this would have happened at a time when the continuity of our and other species depends directly on nature.
Bolsonaro's re-election would have represented a defeat over life on a planet whose climate is mutating, with severe repercussions for the whole world—because we are interdependent. At that moment, the forest was burning. This was the context in which we dreamed of SUMAÚMA and then sowed our kapok tree. And this is why we launched our trilingual platform even before we had the structure to do so, with a team of only five journalists, because we wanted to influence—small as we were—what was to come. We have managed to do our part.
In its first year of life, SUMAÚMA won three journalism prizes, the latest being the Women's Press Trophy, awarded to Elizângela Baré, the Indigenous host of Rádio SUMAÚMA, whose fellow nominees included traditional names from the Brazilian press. This week we will publish the 25th issue of our newsletter, distributed in three languages to nearly six thousand subscribers. Our articles have been read by 500,000 people on our website alone. We have more than 100,000 followers on social media, with profiles in Portuguese, Spanish, and English. We also partner with the Indigenous communicators Samela Sateré Mawê and Cristian Wari'u to reach younger audiences on platforms like TikTok.
During this period, our denunciations have had an impact. The day after we published an article reporting that 570 Yanomami children under the age of five had died of preventable causes under the Bolsonaro administration, Lula traveled to the state of Roraima with his top ministers to address the situation and set up a health task force. Our coverage of oil giant Petrobras's project to drill for oil in the richly biodiverse Foz do Amazonas Basin shone a light on the backstage dilemmas of the Workers' Party (PT), as it also mobilized society and put pressure on the environmental agency Ibama, which rejected the state-run company's licensing application. We investigated and denounced how the race for carbon credits has generated violence and led to irregularities in the Amazon, and this played a role in convincing the Public Prosecutor's Office to take steps to safeguard the rights of original peoples.
We amplified the voices of prominent Indigenous leaders, such as Sonia Guajajara, Célia Xakriabá, Raoni Metuktire, and Davi Kopenawa. We partnered with two of the most creative platforms in Latin American journalism, Dromómanos, in Mexico, and Agenda Propia, in Colombia. We published articles by forest writers, such as the quilombola Natalha Theofilo, a member of a community descended from rebel enslaved Africans, and the beiradeiro Raimundo da Cruz e Silva, a member of a traditional forest community. We conveyed the demands of human children and endangered species to Lula. We recorded 15 episodes of the Rádio SUMAÚMA podcast, hosted by the forest-journalists Elizângela Baré and Maickson Serrão. The trio Pablito Aguiar, Raimunda Tutanguira, and Jonathan Watts created Guariba, the protagonist of a more-than-human adventure in a forest undergoing climate mutation. And, above all, in May we inaugurated SUMAÚMA's most important movement, the one that will make SUMAÚMA into SUMAÚMA: Mycelium (Micélio), our co-training program for forest-journalists. The first group comprised 14 young people from Indigenous, beiradeiro, quilombola, and poor urban communities in the Middle Xingu.
SUMAÚMA has taken sides since day one. In the war against nature that is being waged by the dominant minority and is brutally altering the climate and geography of the planet, we stand as allies of the peoples who remain nature. Not all humans are responsible for the increasingly common extreme events we are witnessing—and that were foreseen decades ago by such Indigenous thinkers as Raoni and by the best scientists, who were not heard. Human destroyers of the forest belong to a minority made up of transnational corporations, the governments and parliaments that serve them, and a good chunk of the superrich, who profit from the exploitation of fossil fuels and other pollutants. The planet destroyers thus have a gender, race, and social class. Unless we understand this obvious fact and give a name to what has a name, we have no chance of curtailing the accelerated heating of planet Earth, a situation that has just produced yet another cyclone in southern Brazil, recent wildfires in Hawaii, massive flooding in Asia, droughts in Africa, and possibly the hottest European summer in 125,000 years.
This is the lifeblood of our journalism. SUMAÚMA's fundamental premise is that the centers of a world in climate mutation are where life is—and not where the markets are. The centers of the world are Brazil's biomes: the Amazon, Cerrado, Caatinga, Pantanal, Atlantic Forest, and Pampa. The centers of the world are the planet's other forests. The centers of the world are—very much so—the oceans, now seriously threatened by mining, predatory fishing, and plastic. The centers of the world are the enclaves of nature that still resist despite the savagery of what has come to be called "civilization." SUMAÚMA fights for them, in the field of journalism, as an ally of peoples-nature.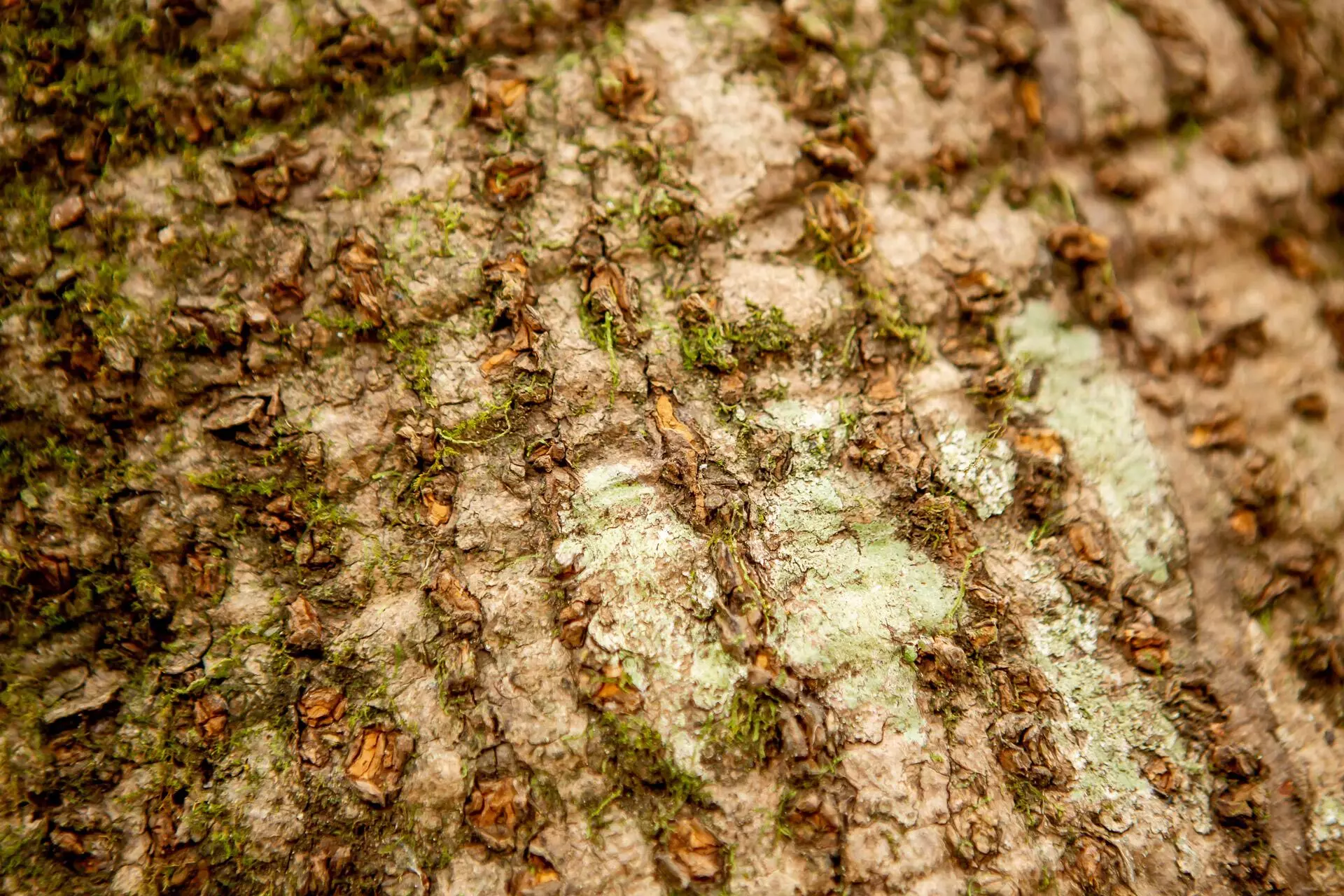 The trunk, and the strength, of a hundred-year-old kapok tree. Photo: Lela Beltrão/SUMAÚMA
In Brazil, Luiz Inácio Lula da Silva won by only 2.1 million votes, the narrowest margin ever seen in a presidential election. Despite everything Bolsonaro did—including his responsibility in the COVID-related deaths of more than 700,000 Brazilians—he received a very significant number of votes.
This is a wake-up call.
Those of us on the ground in the Amazon know that Bolsonarism—much more persistent and enduring than the creature it is named for—is preparing to return to power in 2026. A great many of the town halls and council chambers in Amazon cities are dominated by proponents of Bolsonarism, and next year's municipal elections should bring little change in this regard. Bolsonarism is a way of seeing the world and of relating to everyone else, the most predatory way of seeing the world and relating to everyone else. It is a local name for twenty-first century fascism—fascism in times of climate mutation. And it remains extremely active.
This is why there is something we must tell those who would prefer to cling to their illusions: Lula's win was episodic. It was part of a battle. Even if Bolsonaro goes to prison, where he belongs, the fascism bearing his name is far from defeated. Just look at the Brazilian Congress. Furthermore, throughout the Amazon, people's lives have been threatened. Many of those forced to live as refugees to avoid being assassinated by nature destroyers, even after power changed hands, are still residing in unhealthy, often undignified places of refuge, with no way of returning to their territories, to their homes, because the violence is being perpetuated. So our journalism must remain vigilant and rigorous, on a constant state of alert, so that fascism does not once again occupy the seats of central power—since it never disappeared from daily life in Brazil.
Then we come to Lula and our coverage of his administration. Brutal events in Brazil in recent years, especially from the 2010s on, seem to have numbed part of the population, even those who consider themselves enlightened. Journalism is fundamental to democracy for several reasons, a primary one being government oversight on behalf of the public. If a government is truly democratic, beyond mere discourse, it will want a press that criticizes and scrutinizes it, because this will help it refine its actions and correct any detours from campaign pledges.
This is what SUMAÚMA continues to do now with Lula's administration—and all state and municipal administrations we write about. Our duty to democracy and to the very essence of journalism is to engage in criticism, analysis, and rigorous, responsible investigation. In our editorials, we publicly positioned ourselves in favor of voting for Lula right from the first round of the 2022 elections, because we had to defeat fascism, and Lula was by far the best candidate. But we will never kowtow to those in power. SUMAÚMA kowtows to no one.
Ever since it became clear that SUMAÚMA would keep on doing critical, responsible, and rigorous journalistic coverage of Lula's government as well, we have been the target of attacks by the sector of PT militants that has learned nothing from the experiences of recent years. Supposedly, according to this slice of the PT and to the left, criticizing the Lula administration is tantamount to wanting Bolsonaro back—an idea so bereft of logic that it is almost embarrassing to mention it. This group hasn't understood that the exact opposite is the case: critical, rigorous, and responsible journalism helps truly democratic rulers govern better—and this undermines fanaticism, which guarantees its survival by constantly expunging any fact not in its favor.
This lesson should have been learned during past PT governments. The Belo Monte hydroelectric dam, which transformed the Middle Xingu region and triggered an ongoing humanitarian and ecological disaster, will forever tarnish the legacy of Lula, Dilma Rousseff, and the PT. The same is true of other major hydroplant projects in the Amazon, such as Jirau and Santo Antônio, on the Madeira River, and Teles Pires, on the homonymous river—projects just as disastrous as Belo Monte but which have received much less attention from the press.
SUMAÚMA didn't exist back then, but its creation is linked directly to the coverage of those years of State violence against the forest and its peoples. Journalists who dared engage in journalism and reveal what was happening suffered unremitting attacks on social media. A good part of the mainstream media turned a blind eye because Belo Monte represented a huge opportunity for big money to profit—and a large part of the PT's more militant base thought it was unacceptable to criticize the party for any reason, even more so for building a dam in what they considered the periphery of Brazil. The rest is history. The ecocide is still underway, and this scandal of planetary proportions is far from over.
It is more than time to learn the lesson. It is impossible to side-skirt the facts and contradictions; they must be brought out into the open and confronted, especially when it is hardest to do so. Criticizing Bolsonaro was so very easy. Even journalists who had defended the impeachment of Dilma Rousseff and who in 2018 said the choice between Bolsonaro and Fernando Haddad (PT) was "a hard one" began attacking the fascist. It is challenging to do honest journalism at this moment in history, with Lula in the presidency, when even people we admire are asking us to let things go.
As SUMAÚMA completes its first year, I want to affirm that we will continue doing journalism whatever the administration. And we will remain faithful to our core manifesto priority: the forest first. In selecting the stories for this issue of our newsletter, we decided to feature a little of what we've done over these past twelve months. If we can count on your support, we will do much more in our second year.
We will celebrate the month of our anniversary by advancing the commitments outlined in our original manifesto. In the coming weeks, we will begin our coverage of more-than-humans and also our first investigative series. During this second year, we will also advance in our use of inclusive language and establish a style guide, based on language that refuses to treat nature as a resource and sentient beings as commodities. We will expand our partnerships with independent journalism agencies in the Pan-Amazon region. And we will advance in the creation of tools that allow our readers to really participate in SUMAÚMA and thus plant an active community in moist soil.
In our first year, with the irreplaceable support of each and every one of you, we created a solid, successful journalism platform about the Amazon. We gained credibility and influence. But we want much more than that. Moving into and beyond our second year, we must become a journalism platform from the Amazon. This will only be possible if we "myceliate." The biggest gift of this birthday month will be the publication of the first report by two myceliants: two young women of the Yudjá-Juruna people, from Volta Grande do Xingu, Raylane and Weslane, which will be in the form of a podcast.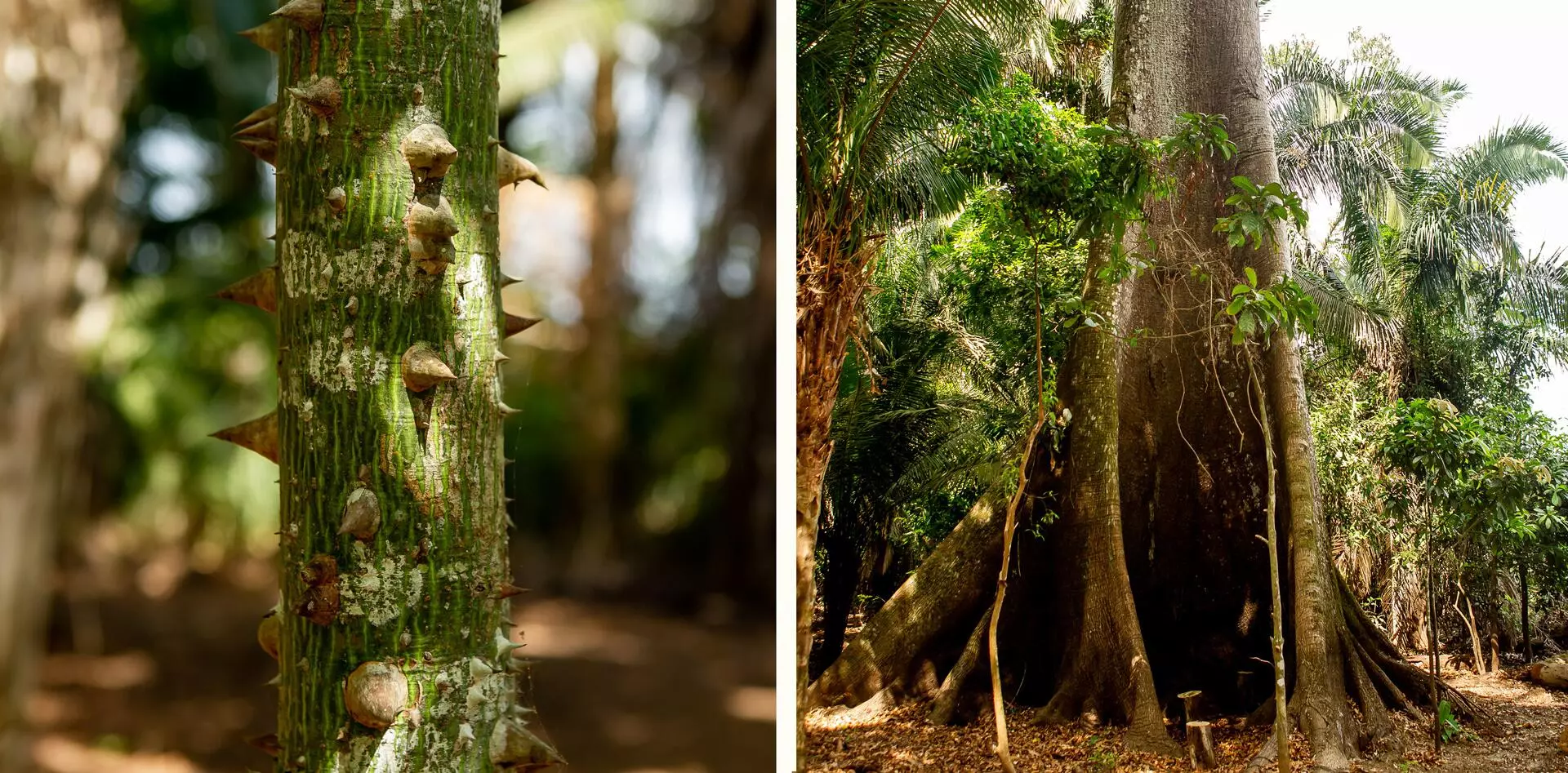 In Raimunda's 'promised land', on the banks of the Xingu River in Pará: the kapok tree on the left is five years old; the one on the right is a hundred years old. Photo: Lela Beltrão/SUMAÚMA
Take a listen. This is SUMAÚMA's future-present.
Help us water and nourish this tree so it can sink its roots into moist soil and stretch out its branches, letting us see ever farther into the skies above our worlds.
Eliane Brum, Middle Xingu, Altamira, the Amazon, Brazil
Sower and director of SUMAÚMA
---
Fact check: Plínio Lopes
Spell check (Portuguese): Elvira Gago
Translation into Spanish: Meritxell Almarza
English translation: Diane Whitty
Photography editing: Lela Beltrão
Page setup: Érica Saboya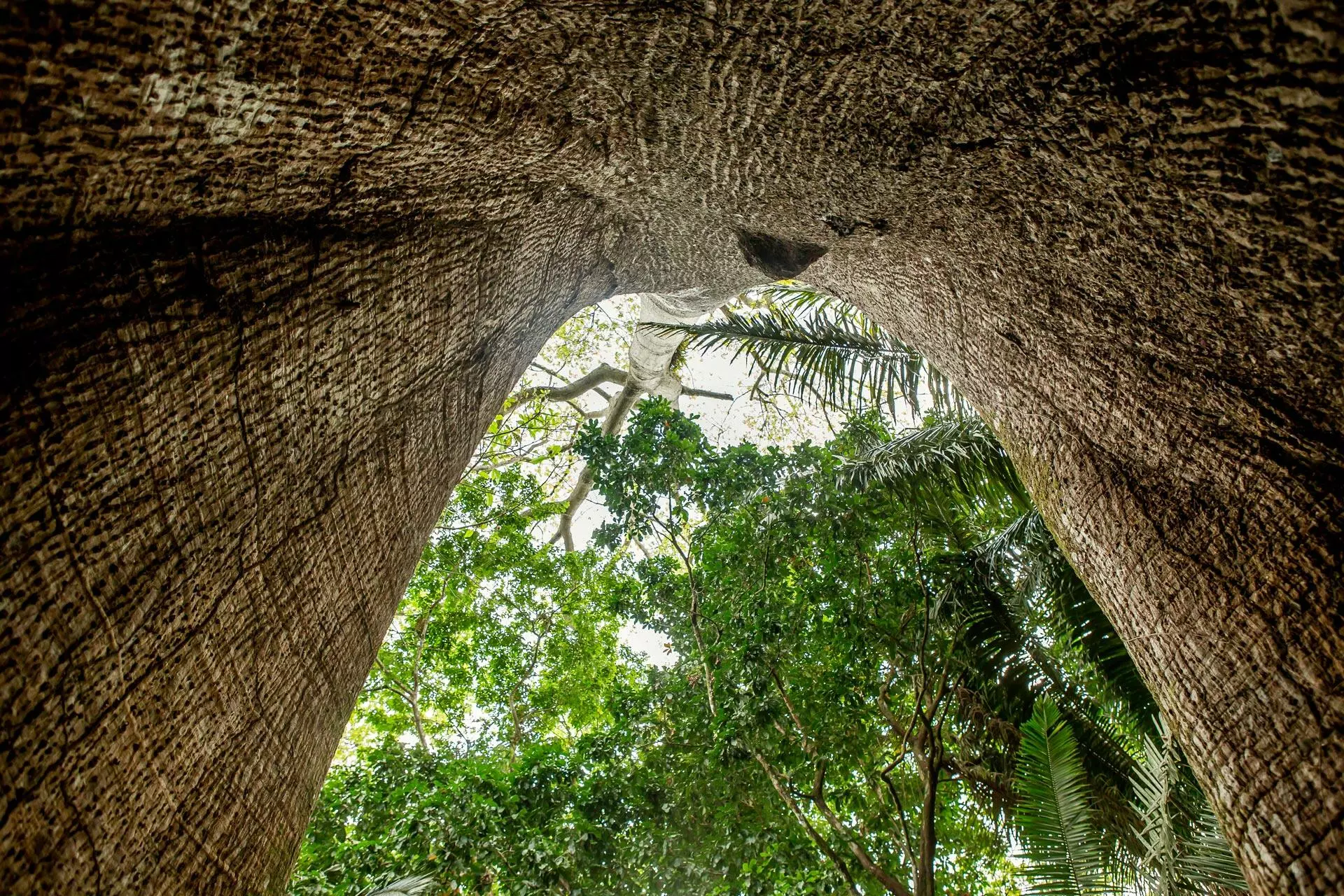 The magnificence of a hundred-year-old kapok, in the Amazon. Photo: Lela Beltrão/SUMAÚMA